Why we're running it: To find out if the new, turbocharged Swift Sport still offers good, simple hot hatch fun that can compete with the best in class
Month 2 – Month 1 – Specs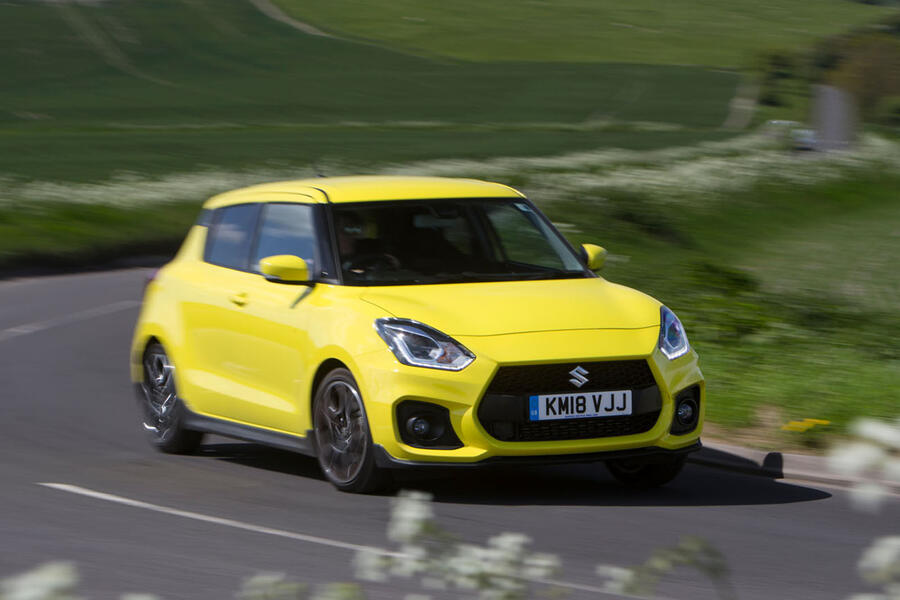 Life with a Suzuki Swift Sport: Month 2
Not quite range anxiety, but the Swift lacks fuel capacity – 13th June 2018
As with standard versions, the Swift Sport has a 37-litre fuel tank – but it seems smaller. The regular Swift's mild-hybrid-boosted engines give you a decent fuel range, but the bigger, 1.4-litre turbo in the Swift Sport requires frequent fill-ups. Thankfully, though, the 300 or so miles of driving you get between stops are proving very enjoyable.
Mileage: 2427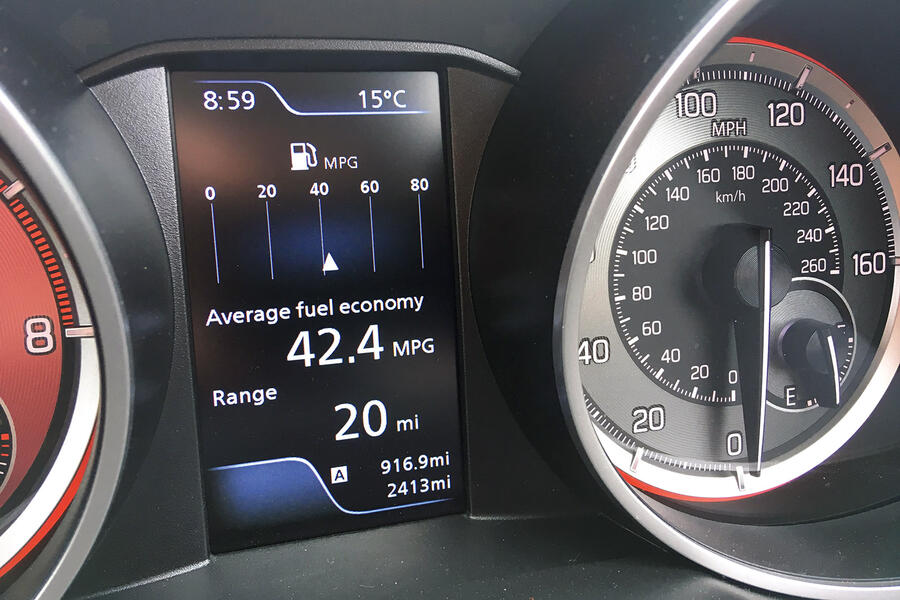 Back to the top
Life with a Suzuki Swift Sport: Month 1
Welcoming the Swift Sport to the fleet – 30 May 2018
Turns out that patience isn't always a virtue. Or, to subvert another cliché, sometimes good things come to those who don't wait. And proof of that, currently parked outside Autocar Towers, is small, fun and very, very yellow.
That'd be our new Suzuki Swift Sport, then. We've been asking (well, pestering) Suzuki for one for our test fleet since our first, brief taste of the hot hatch in Japan last year. Eventually, and possibly just to keep us quiet, Suzuki offered to deliver one to us near the end of May. But they also casually mentioned that, if we fancied getting one nearly a month earlier, we could.
The catch: we'd have to pick it up from an event they were running – in Dublin. So we'd have to fly to Dublin, collect the Swift Sport, catch a ferry to Holyhead and then drive the 300 or so miles back to Autocar's Twickenham base.
Catch? That's not a catch. More like a kid being told they can have their Christmas present early and then given the chance to play with it for hours. After all, what better way to learn about a new car than with an extended road trip spanning urban driving, motorway mileage and, via a short but brilliant detour, some of the finest driving roads in Wales?
As an aside, our lack of patience wasn't even tested when it came to speccing the Swift Sport: there aren't any options to consider. Every car gets a six-speed manual 'box, specially tuned exhaust, LED headlights, 17in alloys and the distinctive Sport body kit. Inside, there's air-conditioning, a leather steering wheel, a colour touchscreen and driver assistance systems such as forward detection, lane departure correction and adaptive cruise control.
Our only choice concerned the colour. We went for Champion Yellow, largely because I have fond memories of similarly hued Ignis and Swift Sport rally cars from a decade ago.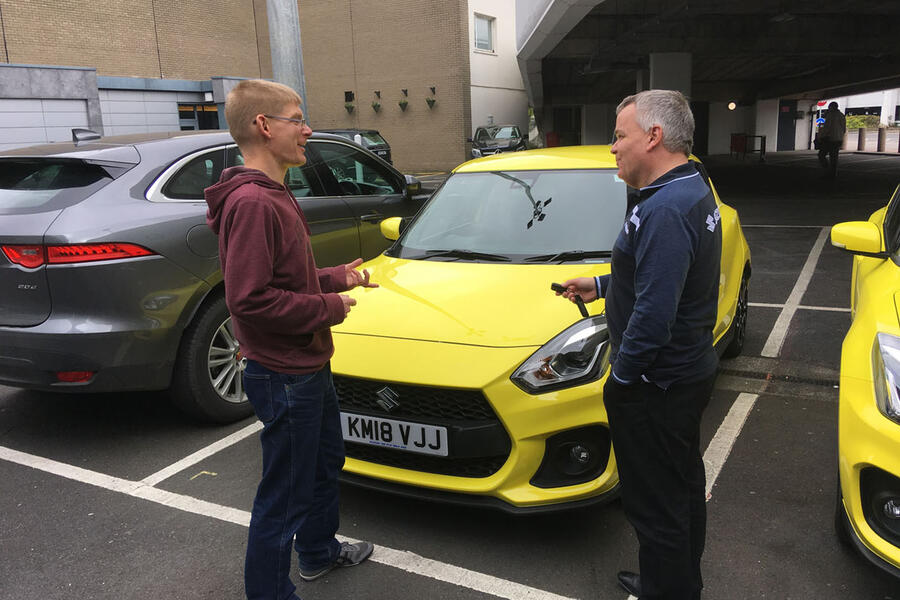 The opportunity to do such varied mileage is a key part of the reason we wanted the Swift Sport on our fleet. Previous versions have quietly become cult favourite hot hatches, because they were simple, small, fuss-free and fun. Or, as we described it in our review, a "pleasingly old-fashioned little bundle of joy".
Success creates expectation – and so our hopes for this new Swift Sport have duly been raised. In addition, Suzuki hasn't simply updated its hot hatch with a new look and minor tweaks: there are some substantive changes under the bonnet.
Suzuki has replaced the peppy 134bhp 1.6-litre naturally aspirated engine from the old Swift Sport with a 138bhp 1.4-litre turbocharged motor. That means the car has more torque – 170lb ft compared with 110lb ft – but, according to our first drive recently, perhaps a bit less character.
That first review did highlight some cause for concern, as reflected by its three-star score. While our testers still judged the Swift Sport "a fine little driver's car", there were furrowed brows over the price: it's been hiked to £17,999 (albeit discounted to £16,499 until the end of June 2018). Now that's expectation raising – it's four grand more than a Volkswagen Up GTI, for starters.
Still, like any kid unwrapping a shiny new toy, I wasn't really thinking about the price when I collected the keys at Dublin Airport. All I wanted to do was try it out. With not enough time before the ferry to find some fun Irish roads, I settled for a trip to Phoenix Park, largely so I could drive a bit of the classic street circuit (albeit very slowly).
That seemed a great idea, until it was time to head to the ferry terminal. The two were only split by six or so miles – except it was six miles right through the centre of Dublin, in ridiculously heavy traffic. That wasn't good for my nerves but was a useful test of the Swift Sport's abilities in stop-start urban driving.
Unlike some hardcore hot hatches, and without the use of any drive modes, the Swift Sport is capable of doing a more than passable impression of a non-sporting Swift, which helped ease my attempts to manoeuvre my way out of near-gridlocked traffic on a succession of bumpy back streets.
Next stage of #OperationSwiftSport: the appropriately named Dublin Swift ferry. Next stop: Holyhead… pic.twitter.com/bOTaLzFE2F

— James Attwood (@Atters_J) 4 May 2018
Having made it to the ferry terminal in the nick of time, the jaunt across the Irish Sea was a chance to relieve the stress of city driving and mentally prepare to exploit our new Swift in full Sport guise on my planned route from Anglesey to an overnight halt in Shrewsbury.
The trip proved that although the Swift Sport might have grown up and become a little more serious, it's still capable of entertaining with a responsive, reactive and just plain fun drive. As first impressions go, it was hugely positive and it's whetted my appetite for more time with the Swift Sport on some of the UK's finer flowing A and B-roads.
It's worth noting that it didn't disgrace itself the following day, when the final part of the journey took in the motorways of Britain, when I set off from Shrewsbury to Twickenham with a mild detour via Bristol (it made sense at the time).
Brizzle. #OperationSwiftSport pic.twitter.com/HVdY1dD4ZD

— James Attwood (@Atters_J) 6 May 2018
I arrived back at Autocar HQ after a long weekend of getting to know the Swift Sport keen to spend more time in it. One first impression: it remains good, simple fun, yet is also a hot hatch that should settle in nicely as a daily driver. Of course, it's always fun being allowed to open your presents early.
The question will be whether they'll still feel shiny and exciting a few months down the road. At some point, too, the question of value will come into play and we'll have to consider that £17,999 price – and the similarly priced elephant in the room that is the new Ford Fiesta ST.
Still, that's for the months ahead. Right now, I'm after an excuse for another Swift Sport road trip.
Second opinion
Past Swift Sports have, in my opinion, offered as much pep and performance as you need to drive spiritedly but safely on Britain's roads. The balance between everyday usability and sports tuning has always seemed spot on and the early signs are this latest version gets it right too.
Matt Burt
Back to the top
Suzuki Swift Sport specification
Price new £17,999 Price as tested: £17,999 Options: none Engine 4 cyls, 1373cc, turbocharged petrol Power 138bhp at 5500rpm; Torque 170lb ft at 2500-3500rpm Top speed 130mph 0-62mph 8.1sec Claimed fuel economy 50.4mpg Test fuel economy 41.9mpg CO2 125g/km Faults None Expenses None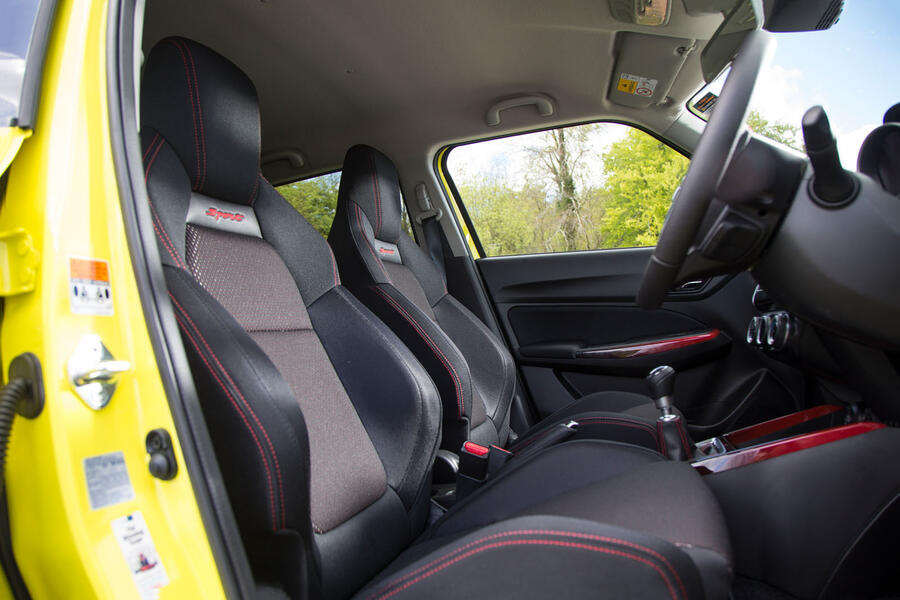 Source: https://www.autocar.co.uk/