That's when Dumas knew too. When the Volkswagen Motorsport team first arrived at the Colorado hill for private testing a month or so before the competition, things hadn't looked so good. That was nothingto do with the 671bhp electric powertrain on the less-than-1100kg machine. The twin motors were producing, and the team was happy with the ratio of batteries – still declining to say exactly how many they had fitted – to weight. The focus of the ID R Pikes Peak's design was ensuring Dumas had consistent, usable power throughout his run, particularly when the thin air began to strangle combustion-engined motors near the top of the climb.
The powertrain was working fine. That wasn't the problem. The ID R wasn't handling right, bottoming out on the bumpy ribbon of Tarmac, leaving the driver unable to exploit its responsive handling and mountain of instant torque. "It was not looking good," confesses Dumas.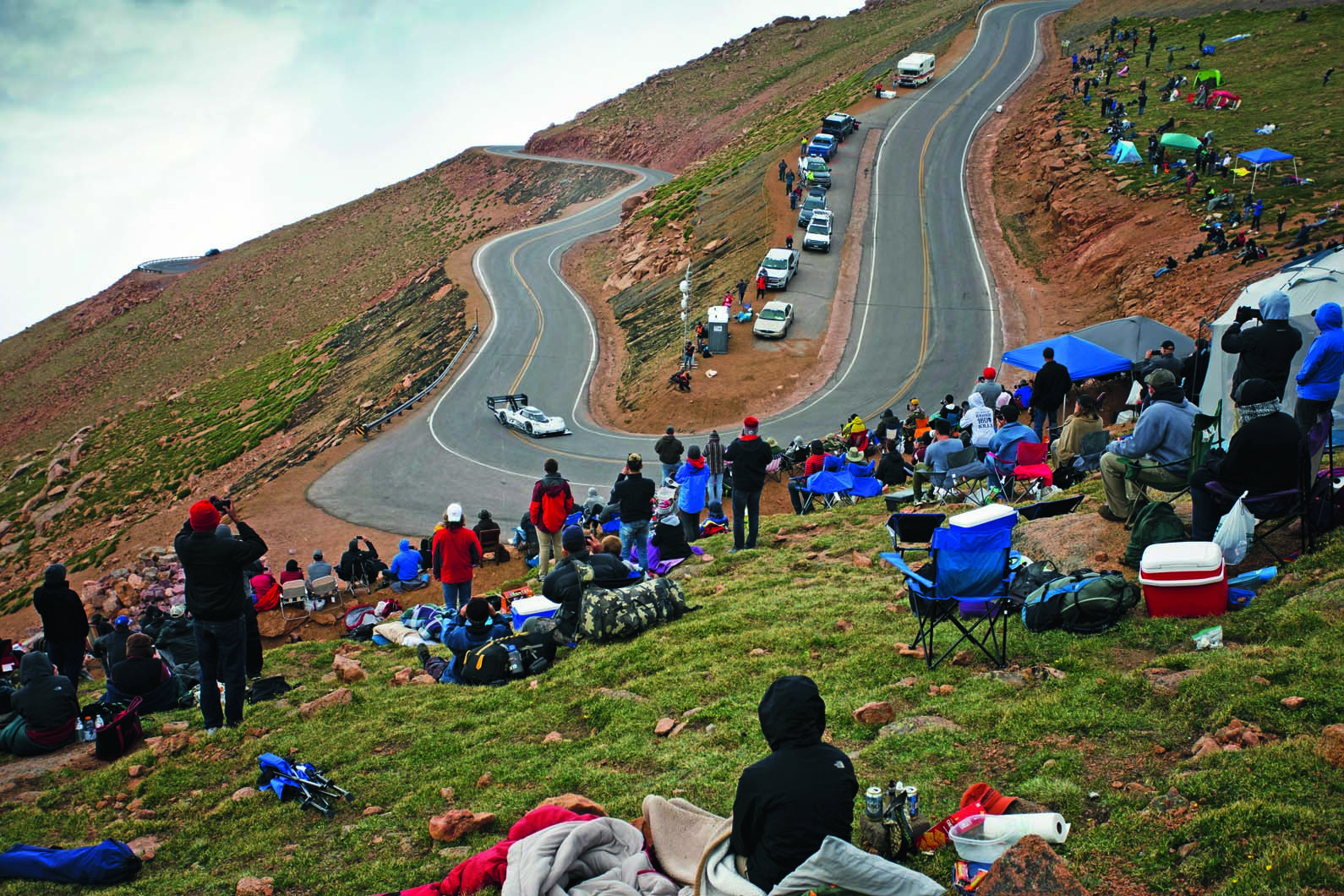 The team worked, and tested, running at the nearby Pikes Peak International Raceway. They experimented with ride height, downforce, dampers, roll bar and camber, trying to adjust the car to a course and hill that itself is always changing. But the team still wasn't happy heading into the qualifying and practice days, held on short sections of the course. And then: progress. "We improved a lot suddenly, luckily," says Dumas. "The team stayed in Colorado for three weeks and found a lot of improvement."
In practice on the upper section of the course, Dumas suddenly went 10 seconds quicker than Loeb managed in the Peugeot 208 T16 Pikes Peak back in 2013. Suddenly the car was easy to drive. And that's when Dumas knew: "The car felt like a single-seater or a sports prototype.
I said: 'Oooh, this will be fast now'."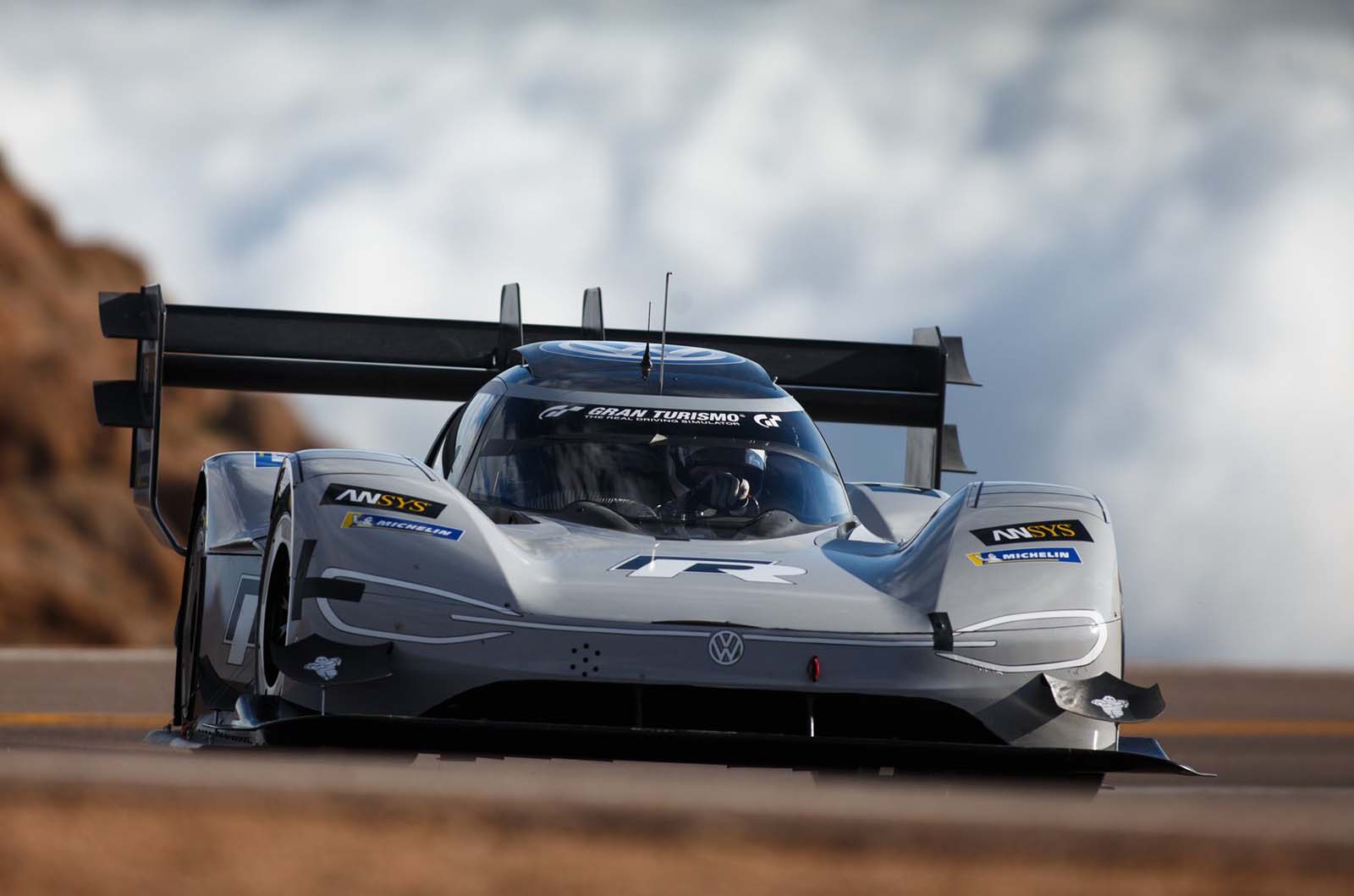 But at Pikes Peak, nothing is ever simple. "It looks like Dumas could break the record," said Phil Layton, a former event director, on the day before the big event. "But there are no guarantees here: you feel the spiritof the mountain. The mountain will decide if she surrenders the record." It would be easy to dismiss such whimsical musing when you look at the ID R Pikes Peak, the incredible machine Volkswagen Motorsport had pulled together in just seven months. Even with a storm forecast for early afternoon on Sunday, surely the efforts, expertise and investment of that incredibly skilled team would roll over such a concept? Surely, inevitably, German engineering would conquer the mountain?
Sunday 24 June, shortly before 10am, and Dumas is no longer sure. The morning had been going to plan. Early mist had cleared, the skies were bright and a storm heading for Pikes Peak wasn't due until the early afternoon, long after Dumas would reach the summit.
An hour or so earlier, Dumas sat behind Volkswagen Motorsport's service area, where the ID R Pikes Peak sat in a cocooned plastic tent to keep its batteries at optimum temperature. His head down, sipping water and a coffee, Dumas visualised Pikes Peak's 156 turns one final time, until it was time to clamber into his machine.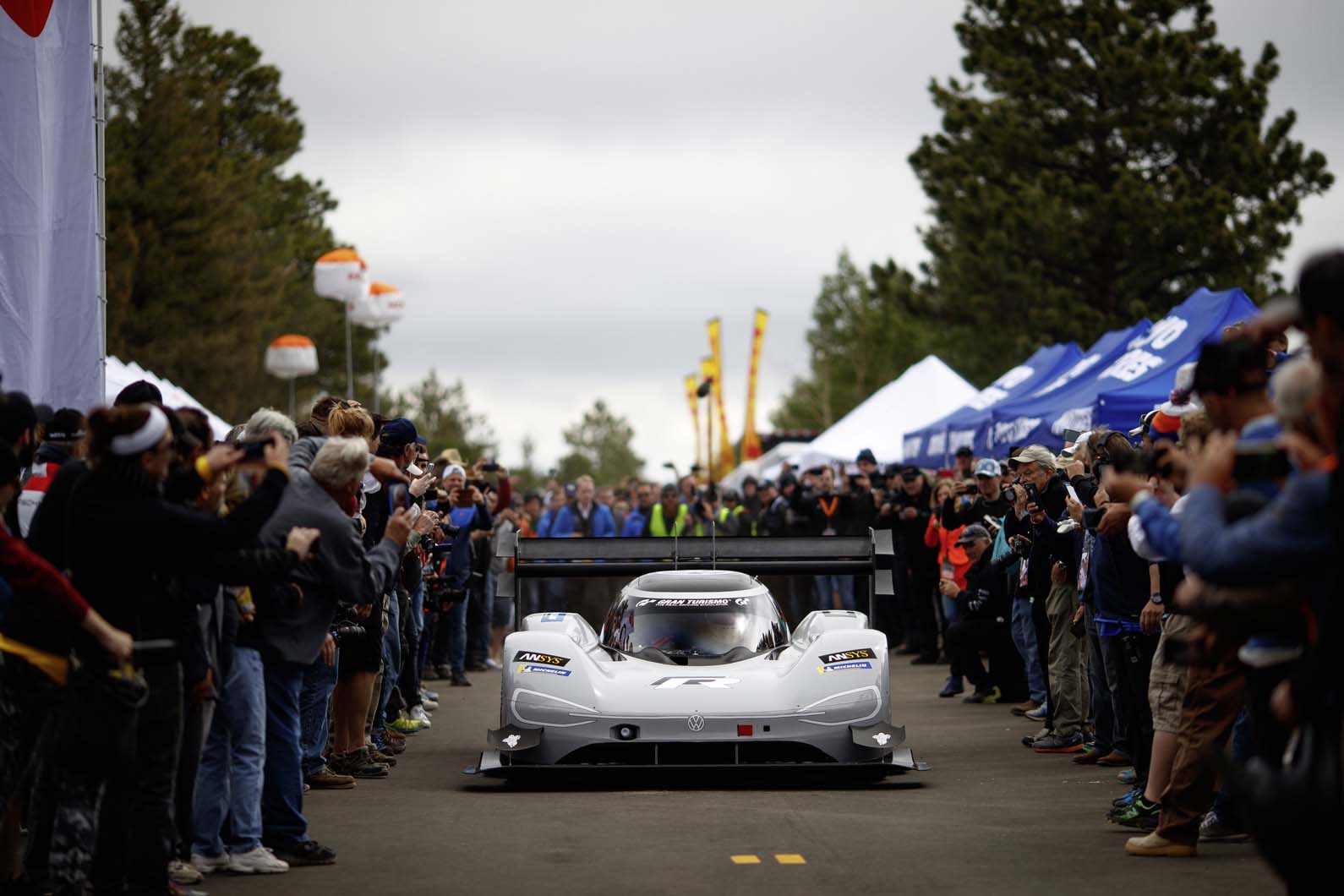 And then he waited.
A motorbike rider had crashed on his run, and had to be brought down in an ambulance. A spectator also fell ill, requiring a helicopter evacuation. And so Volkswagen had to wait, trying to keep the ID R batteries and tyres at the perfect temperatures. And, as they waited, clouds began envelop Pikes Peak.
"I sat in the car for 45 minutes," recalls Dumas. "It was like a stint at Le Mans, but without driving. I didn't know if I should get out. Everyone was looking at the cloud, and I could see from the face of FX [technical chief Francois-Xavier Demaison] that there was big stress. I was thinking 'oi yoi yoi, it will be complicated'. I decided if I got out I would get even more stressed, so I stayed in the car and waited."
The wait ended shortly after 10am, when Dumas was finally called to the start. As he had at Devil's Playground on Friday, Dumas waited for the signal, and then went. By the time he crossed the flying start line, he was doing 136mph. Standing just past the first corner, I watched the ID R flash past, so quick its siren barely had time to register. So quick that the reaction of the crowd was delayed, as they tried to process what they had seen.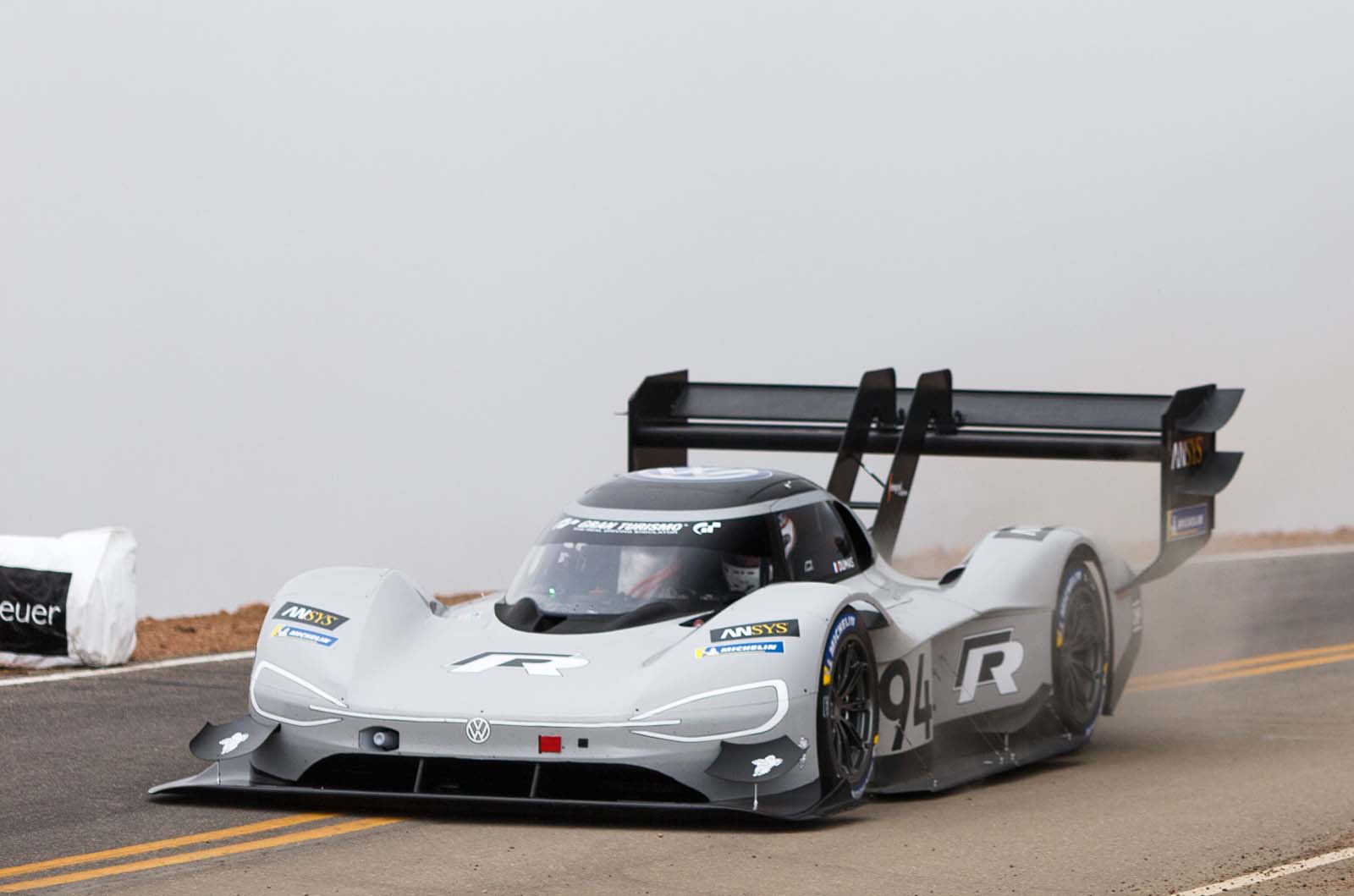 "Yee-haw," yelled one, finally. Others cheered. One simply swore. Loudly. And that's when they knew.
Still, there was no guarantee. The lower stages of the course were clear but midway up the mountain was a layer of damp fog. "I took no risks there," he recalls. "There was just no grip in places. The Tarmac was very cold due to the fog, so I backed off a little bit."
Dumas estimated he lost four to five seconds in the middle of the course. The final sector was better: "At the top it was sunny again, and there was good grip, so I pushed again in the fast corners. It was fun." And that's when, finally, he knew for sure.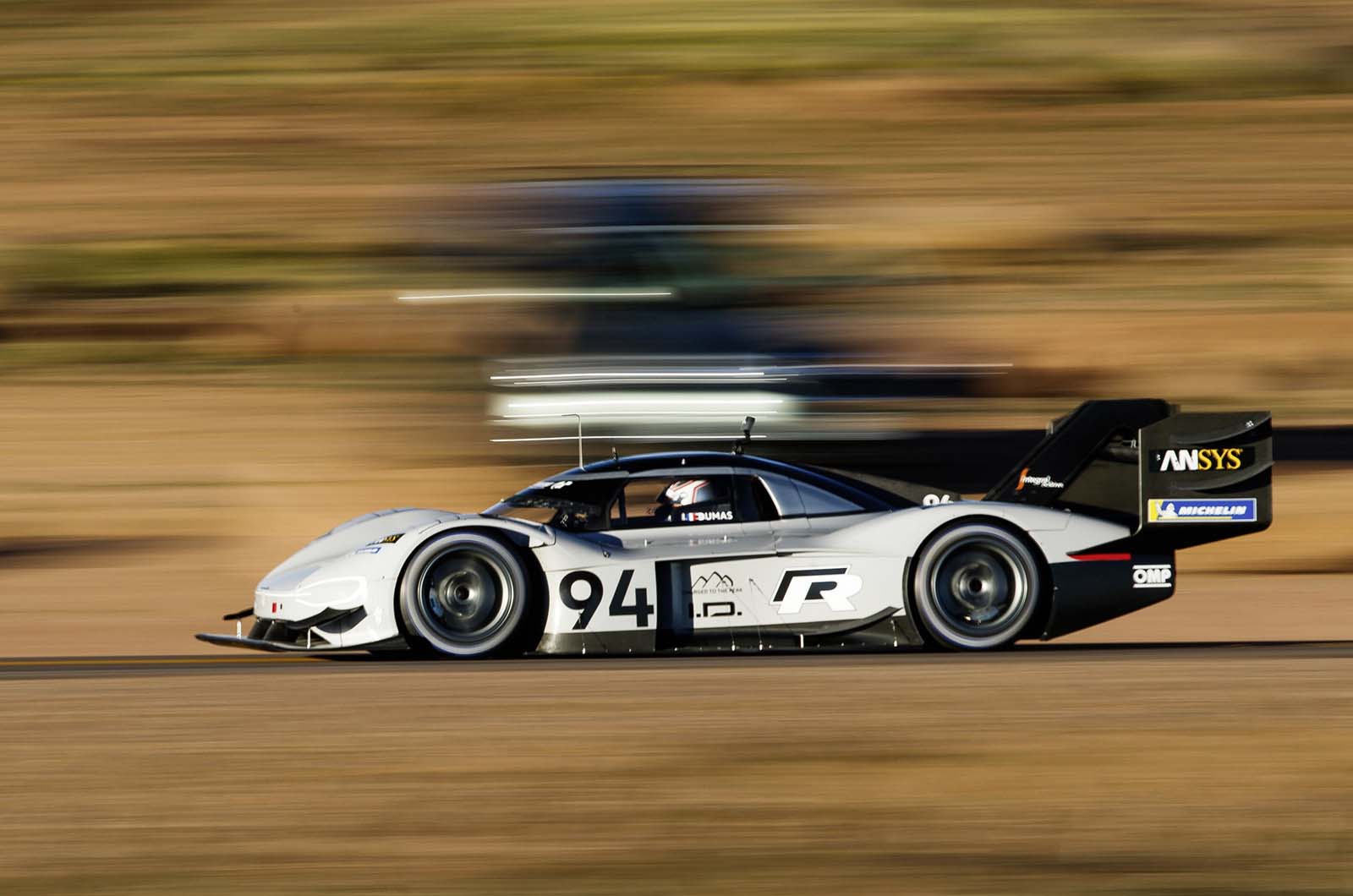 "When you know you can beat the record, you feel it," he says. "I didn't have split times in the car, but in the final kilometres I knew it was good for the record, so I took no risks."
Dumas crossed the line in 7min 57.148sec, an average of 90.538mph through the 156 turns and 7.2% average gradient. A new electric course record. A new outright record. And he could have gone quicker – by 10 seconds, he reckons. "But," he adds, "who can say you have the perfect day at Pikes Peak?"
Back down at the start line, the wait was also over for Volkswagen Motorsport, and the reward for seven months of effort exceeded expectations. An electric car has proven itself faster on America's second-oldest motorsport event than any internal combustion-engined car, ever. "This is a significant moment not just for Pikes Peak, but for all motorsport," says Dumas. That's no exaggeration.
But had the weather – the mountain – not been kind, we might not be talking about that victory for cutting-edge technology.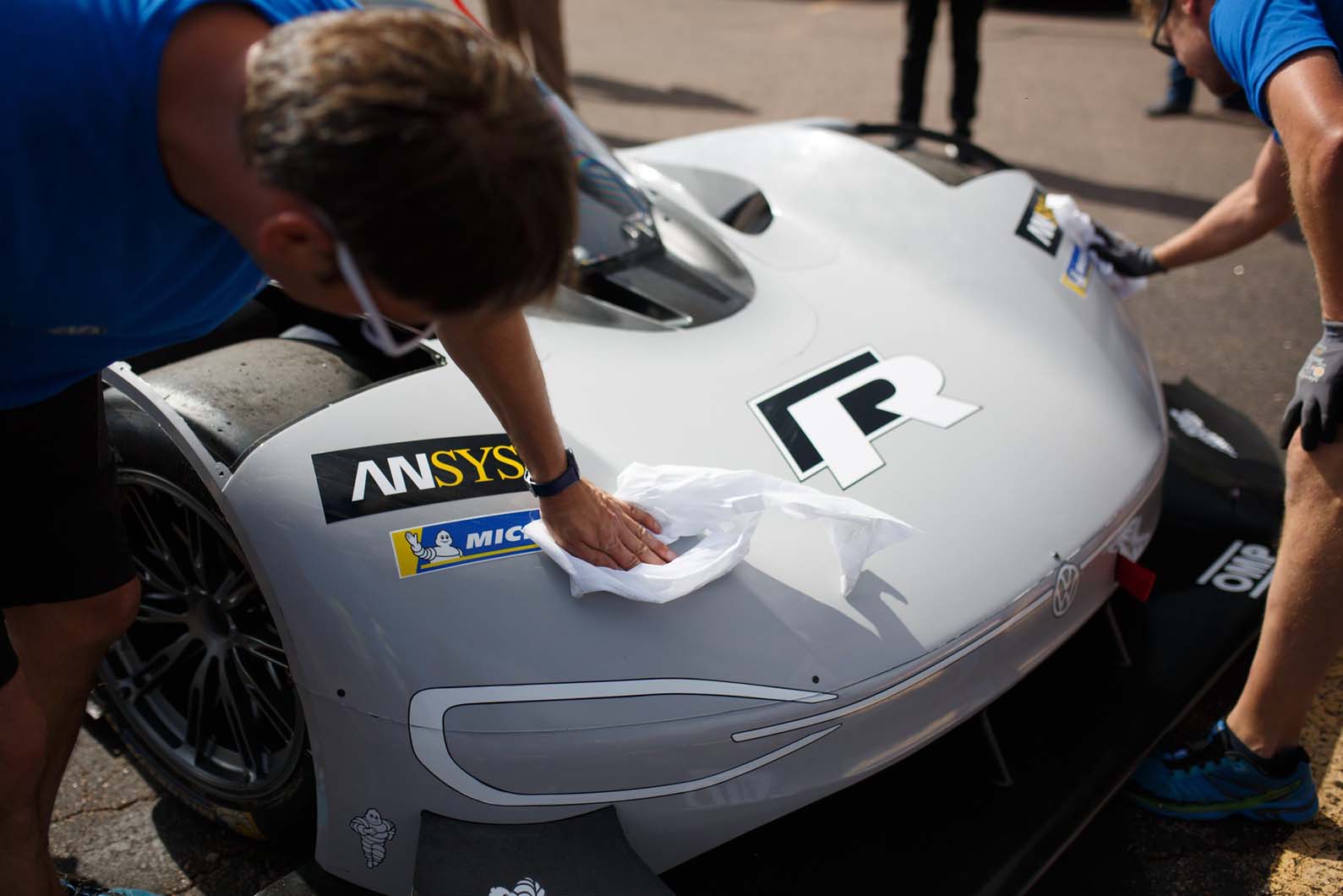 "We could see the clouds coming, and you knew they expected rain," says Volkswagen Motorsport boss Sven Smeets. "Luckily, the mountain was in our favour this time. It said 'okay, go to the top', and I'm very happy it did." The storm arrived at lunchtime, right on schedule: first rain, then hail, then snow. The event was delayed – later runners tackling a shortened course – and with drivers unable to come down the mountain's single road until everyone had finished, Dumas was forced to wait. Again.
He sat in the summit house, ate "a bad burger" – he passed on a free doughnut – and joined in a snowball fight. Eventually, seven hours or so after making history, he was free to descend. With the ID R Pikes Peak needing a tow down, batteries spent, he hitched a lift by sitting on the monstrous rear wing of Paul Dallenbach's PVA Special.
When Loeb obliterated the record by more than 90 seconds back in 2013, many felt his mark would never fall, that he had 'broken' Pikes Peak, effectively ending the long, long battle for the hill record.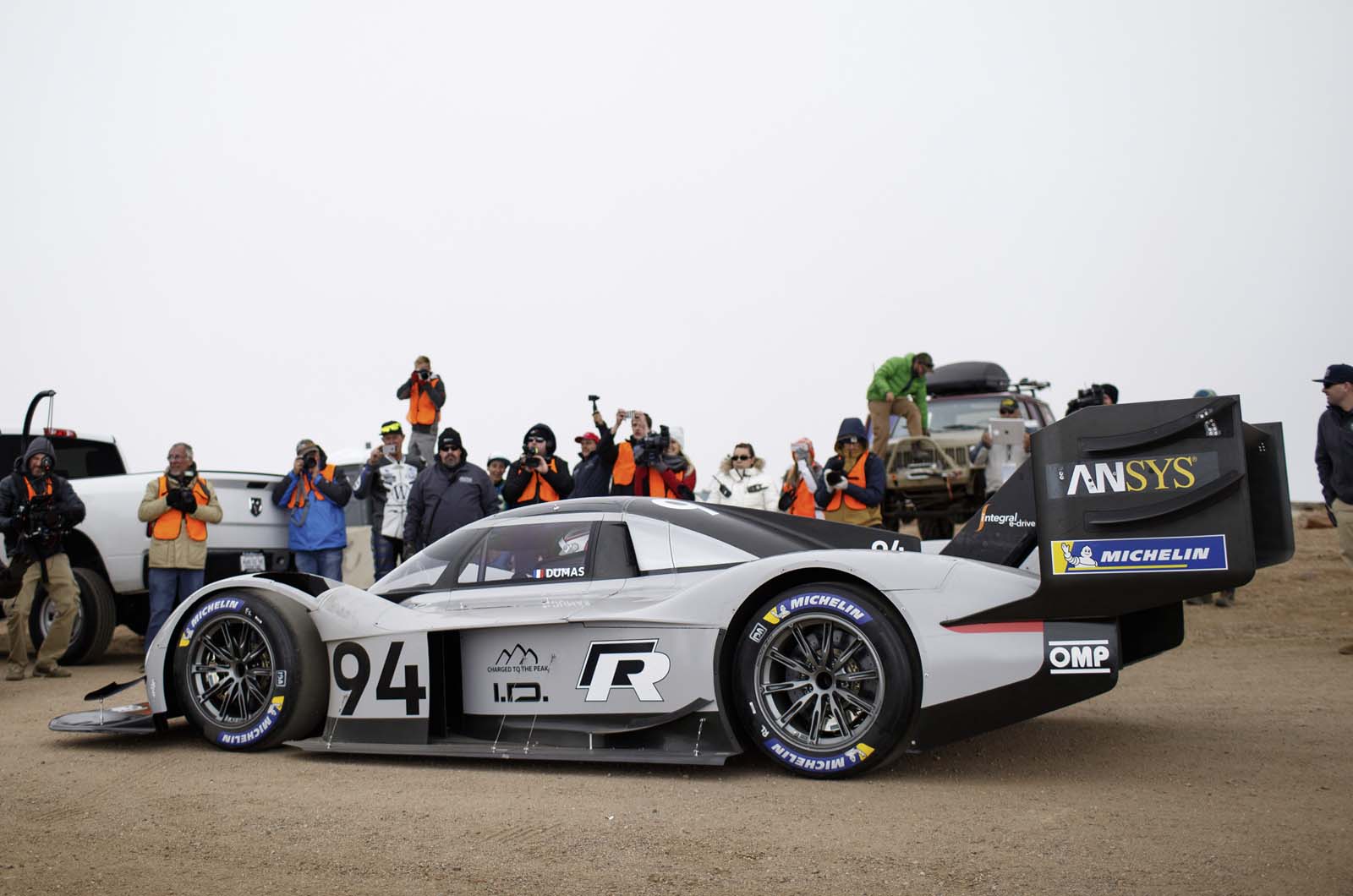 Yet it stood for just five years. And with a victory for EVs, Dumas and Volkswagen's record feels like a renewal of the event.
"It's insane," says Dallenbach, a former event winner and hill record holder. "I thought Loeb's time would never be beaten. But now, with electric technology getting better? Jeez, now it feels like there are no limits here."
If, that is, the mountain allows it.
Read more 
Pikes Peak 2018: electric Volkswagen ID R Pikes Peak smashes outright record
671bhp Volkswagen ID R Pikes Peak to challenge electric record time
Pikes Peak 2018 notebook: how the event unfolded
Source: https://www.autocar.co.uk/