Why we're running it: To ascertain if so much power and four-wheel drive are assets or unnecessary excess. And, well, because it's an M5…
Month 2 – Month 1 – Specs
Life with a BMW M5: Month 2
The humble car key doesn't get more useful, or complex, than this – 13th June 2018
The M5's key can do all kinds of things from inside your house that it would be just as sensible to do from an app on your phone. Such is the array that, inevitably, it needs charging, but so little do I use the extras that I don't tend to realise until it has been as flat as a bean for who knows how long. It still locks and unlocks and starts the car, though.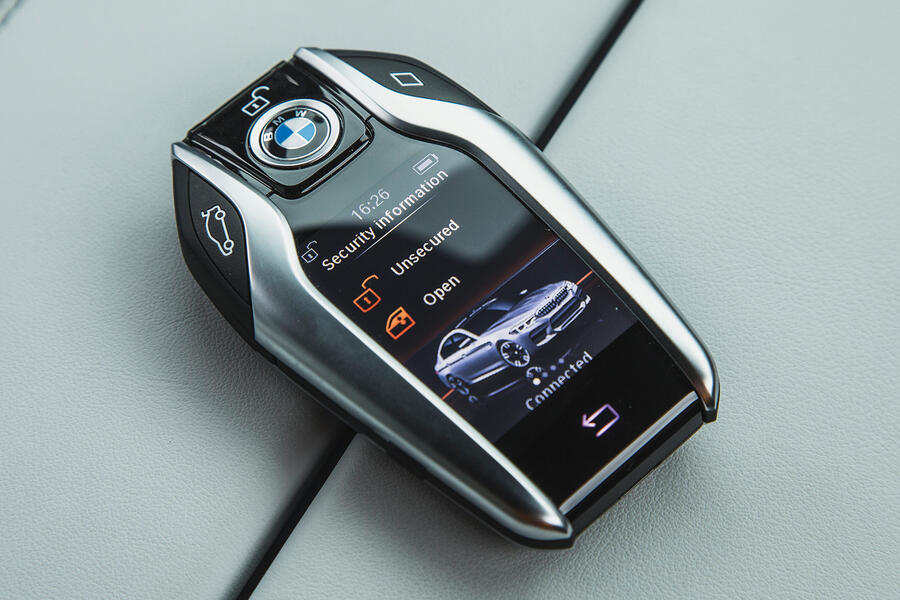 Mileage: 8778
A 900-mile return trip to the M3 CS launch and N24 race? Be rude not to take the M5 – 30th May 2018
Among the blinding greenery of the Rhineland, there's an isolated ribbon of Tarmac that flows between the sleepy spa town of Bad Neuenahr and the altogether less somnolent village of Nürburg.
It's well surfaced for the most part and the setting is completely bucolic. Ideal, say, for an E300 cab: stick the dampers in Comfort, Bob Seger on the radio. Not a worry in the world.
The funny thing is that above a certain level of commitment, this same stretch becomes an utterly brutal examination of a car's dynamic repertoire. There are second-, third- and even fourth-gear corners of capricious profile and camber changes where you wouldn't expect.
One sequence isn't unlike the infamous Corkscrew at Laguna Seca, for pity's sake, and there's a bend whose exit is not only blind but also concurrent with an unfavourable surface change and a vicious compression on the nearside. You're spat out of it at the top of third gear.
It was mainly along this marvellous stretch that the new BMW M3 CS made a convincing case for itself as the most engaging device in M division's current portfolio. But it was a close-run thing.
Why? Because our M5 long-term test car could also be found in that precise neck of the Adenauer Forest during the same weekend of the Nürburgring 24 Hours.
For outright zip, ultimately it failed to match a car some 400kg lighter and with a significantly lower centre of gravity, and nor was it quite so confidence inspiring when the Armco loomed. But it was arguably the greater feat of engineering purely for its astounding body control and the fact that it was actually enjoyable to punt along a road that could have been bespoke-laid for a Lotus Exige.
As you may have surmised, our long-termer was the steed between home and a gruelling race weekend during which BMW launched its latest M-badged road car, and therein lies the true appeal of this M5. Some back-road fun sandwiched by substantial highway blasts resulted in around 900 miles and an overall fuel economy of 21.4 mpg, for a total expenditure of roughly £260.
No, this 4.4-litre twin-turbo V8 was never going to set records for frugality but, if the car impresses on more tortuous routes, it'll blow your mind on a derestricted autobahn. How fast? An indicated (and restricted) 164mph, at which point your estimated time of arrival goes into free fall with that engine still pulling damnably hard.
Perhaps of greater significance is that proceedings remain serene enough that you'd barely have to raise your voice to be heard by those in the back. More prosaically, the M5 simply makes things easy on this kind of trip.
You can angle the headlights for Continental duties at the touch of a button and the head-up display converts your speed and speed-limit icons into km/h. It is comfortable, it is spacious, the Harman Kardon sound system is very good and you don't worry about leaving the thing in a strange corner of an unfamiliar town after a mammoth day in the saddle.
It is quite stocky, though, with a track width that's more or less equal to that of a Lamborghini Huracán Performante. It means there's now a small nick on one of the alloy wheels, inflicted by the ghastly width restrictors on the top deck on the Eurotunnel trains.
Every time I'm lucky enough to drive this car, three things occur to me. The seats are set too high, the body control is simply a touch close for everyday driving, even for a super-saloon, and, God, how I wish they'd made a bit more of the wheel arches.
But while it takes me a little time to get onto the M5's wavelength, once there I'm pretty much smitten.
Richard Lane
Love it: CRUISE MISSILE No surprise that a 600bhp saloon with massage seats can seemingly condense international travel, but it's a lovely sensation all the same.
Loathe it: TOURING RANGE 'Loathe' is strong, but if the 70-litre fuel tank was just a little bigger, you'd easily manage 450 miles between cruising fill-ups.
Mileage: 9130
Life with a BMW M5: Month 1
Best seat in the house – 9th May 2018
The steering column, seat back (lower and upper), under-thigh support, head restraint, plus the usual seat options – forward, back, up, down – all adjust electrically. There's so much adjustment that I have resorted to using the memory function. Then there's heating, cooling and massage too. I'll bet the seat weighs more than I do.
Mileage: 3360
Welcoming the M5 to our fleet – 2 May 2018
I can't remember a car that has been busier on its arrival on the Autocar long-term test fleet than the new BMW M5. With decent reason, I suppose; it's a new M5. They are rare and we want to see, as quickly as possible, just how good they are.
From the moment it was collected from north Wales, the M5 was being used in a group test alongside a Mercedes-AMG E63 S and a Cadillac CTS-V. It won. Then it was videoed alongside an E63 with two different testers — me included. It won again. (Albeit with a lot of love for the AMG, I'll be honest.)
Since then, we've videoed it alongside an Alpina B5, photographed it alongside the B5 for a feature and, just two weeks ago on these pages, it was subjected to a full Autocar road test. Four and a half stars, my lovely. Four minor demerits; otherwise spot on.
Some of the highlights, then? The 592bhp four-wheel-drive 4.4-litre V8 saloon hits 60mph from rest in 3.3sec. Then there's the 7.5sec it takes to reach 100mph, a standing quarter mile in 11.5sec at 125.1mph and a standing kilometre in 20.8sec at 159.1mph.
So even over a standing kilometre, the M5 is no more than seven-tenths behind a Ferrari 458 Speciale. It's that fast.
Comfortable, too — for the most part. Our road test noted a slightly jittery ride on occasion and, mostly, I'm inclined to agree. If terrific body control is the trade-off, though, and presumably there has to be some kind of compromise in a 1940kg car that has to be an executive saloon and yet is also trying to be a sport car with supercar power, then I suppose that's the rub.
What I can tell you is that I can't think of another car that, when it comes to trying to be both engaging and sporty, and yet also luxurious and comfy, is so complete in its dynamic make-up.
Inside, it's everything a 5 Series is as well. It'll seat five in great comfort, there's a 530-litre boot behind them, with a can of foam beneath the boot floor in case you get a puncture because the M5 doesn't have run-flat tyres.
Which is one reason why, I suspect, the M5 has such a bewildering array of dynamic capabilities and why the Alpina B5 (spoiler alert) doesn't ride night and day better — something that's usually one of Alpina's great traits.
You can slacken the M5's suspension, plus its other attributes — powertrain, gearbox, steering weight — to a bewildering degree, too. On the centre console by the gearlever — on which there are three modes for upshift timing — you can select which damper modes, engine response, transmission response and steering weight you want.
Or you can select from pre-programmed variants. Or you can pick your own set-up and programme that into two discrete red levers on the steering wheel. That's what I've done.
On the left lever is full comfort on everything. On the right is full angry on everything, stability control disengaged and a transmission that's in rear-wheel drive mode. Sometimes I flit between these and select other things, as I get used to the car. But mostly I realise I'm doing it for experience and novelty. Were the M5 mine, I suspect I'd just rely on those two particular set-ups.
There are lots of other things to get used to and get your head around, too, in part thanks to a raft of options that include one of my other favourite steering wheel buttons: a heated wheel rim. I do like a heated steering wheel. And, the other day, somebody left a pea under 20 mattresses and 20 feather-beds and I could still feel it at night!
Anyway, that's part of the Comfort pack, which our road test reckoned was a good idea to spec, unlike the Premium pack. I agree; the M5 has a carbonfibre roof to reduce weight and make it lower, so I'd steer clear of too many options — such as the Premium pack's soft-close doors — that add the kilos back on again.
Source: www.autocar.co.uk