Mercedes-AMG's new GT 4-door Coupé has made its UK debut at the Goodwood Festival of Speed, where it has demonstrated its 630bhp performance on the famous hillclimb.
The car will go on sale in Britain from September, at which time a launch variant called Edition 1 will be offered for 12 months only. This short-lived top model will use the same 630bhp twin-turbocharged 4.0-litre V8 petrol engine as the top-of-the-line GT63 S 4Matic+. It is capable of propelling the car to 62mph from rest in just 3.2sec and on to a top speed of 196mph.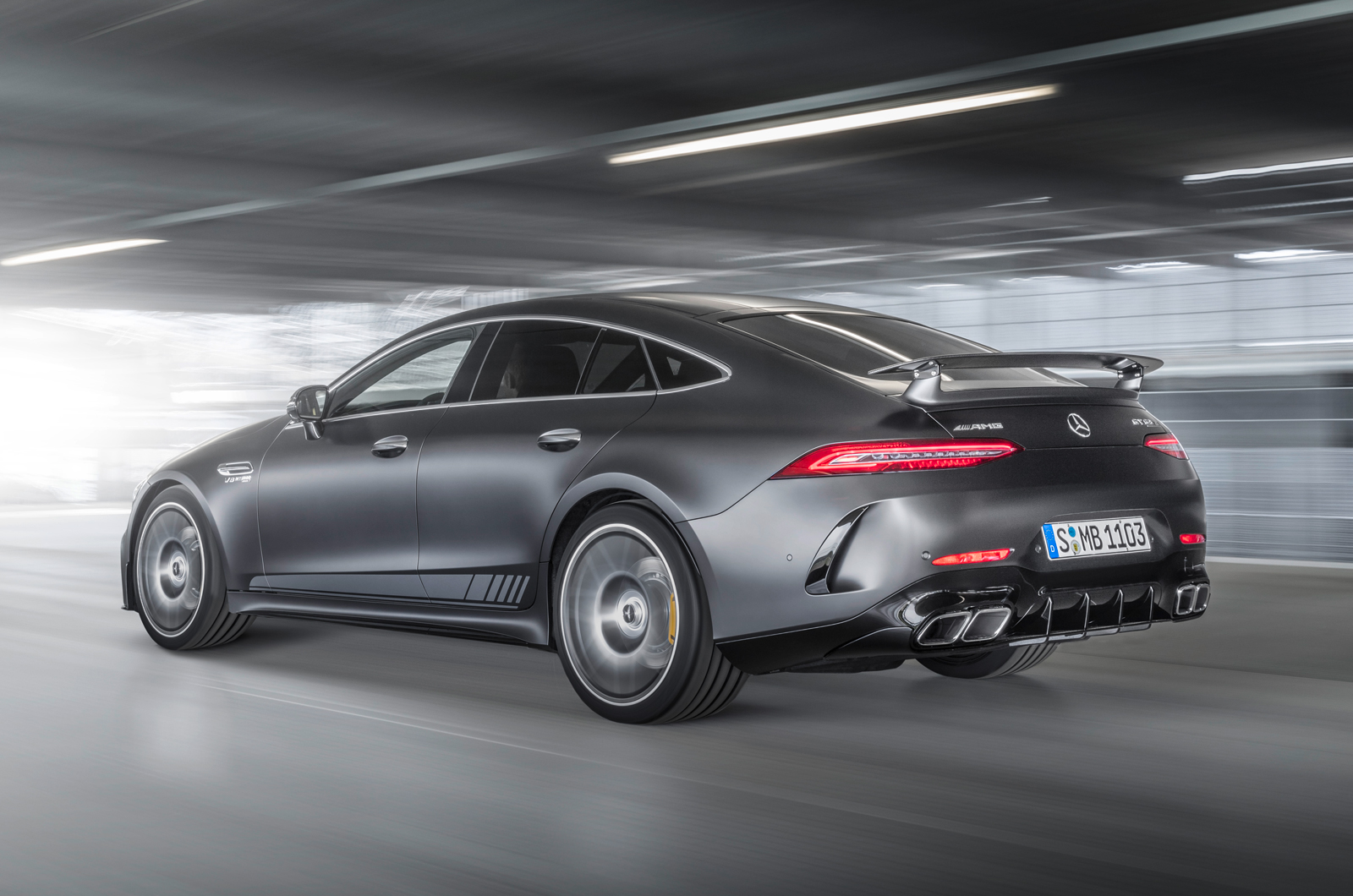 Opinion: Mercedes exploits another niche
AMG's Porsche Panamera rival will reach customers during the first quarter of 2019. Official pricing has yet to be revealed but a starting price of about £85,000 is likely for the normal car, with the Edition 1 to be priced well above that.
Like the first version of the two-door GT sports car, the Edition 1 will get more standard features, including the sportiest aerodynamics package, 21in AMG wheels and a bespoke grey and black scheme.
It will kick-start the arrival of AMG's all-new and division-specific GT 4-door Coupé model, which follows the SLS Coupé and Roadster and the GT Coupé and Roadster as the fifth dedicated model from Mercedes-AMG.
The '4-door Coupé' component of its name suggests that it is a saloon-cum-coupé model in the mould of the mechanically similar Mercedes CLS. However, it does in fact take inspiration from the existing GT Coupé by featuring a fastback-style tailgate. That design is integral to providing the new AMG model with the sort of practicality that the company's chairman, Tobias Moers, says allows it to deliver a "high level of day-to-day suitability".
The GT 4-door Coupé will be offered with the choice of two petrol engines from the outset. One is Mercedes' new 3.0-litre inline six-cylinder unit with a mild-hybrid system in the GT53 4Matic+. The other is AMG's 4.0-litre V8, which, in line with other AMG models, will be available in two separate states of tune in the GT63 4Matic+ and GT63 S 4Matic+.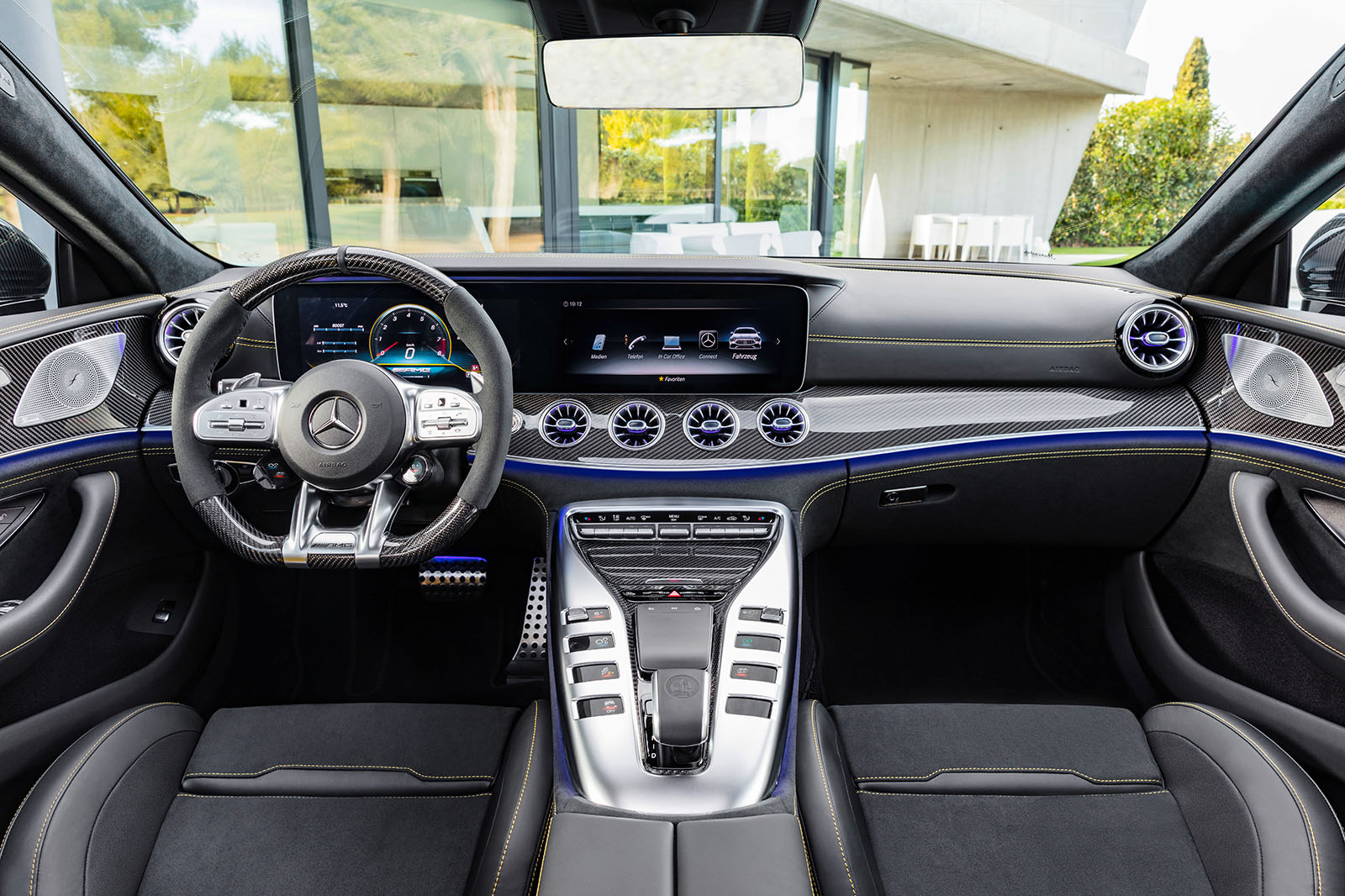 As their names suggest, all three models in the launch line-up feature as standard a fully variable four-wheel-drive system, as revealed on the latest E63 4Matic+, along with a nine-speed automatic gearbox.
The basis for the first ever four-door fastback from AMG is Mercedes-Benz's MRA platform. A large proportion of its underpinnings, including its chassis, as well as its electrical architecture, is shared directly with the recently unveiled third-generation CLS and the latest E-Class.
Despite the GT 4-door Coupé's mechanical similarities to the CLS and E-Class, AMG has brought its own unique touches to it. For instance, it has a longer front end with a larger engine bay to house a range of different powerplants, including the company's signature V8 petrol unit, which has been denied the new CLS due to what AMG's engineers cite as packaging reasons.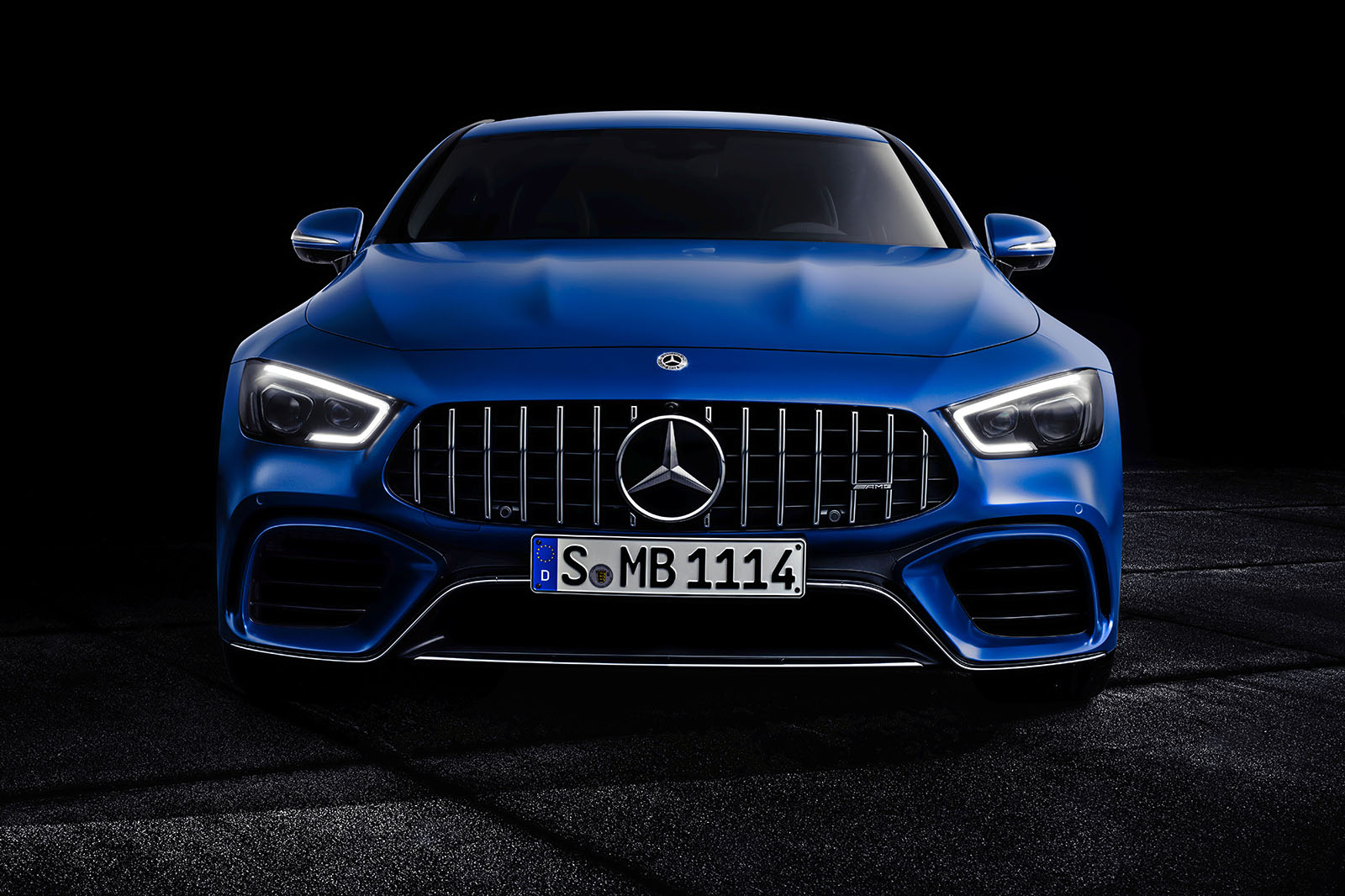 In the GT53 4Matic+, the new model receives a 48V electrical system. This is used to operate an electric motor that recovers kinetic energy under braking and during periods of off-throttle coasting as part of a range of so-called EQ Boost powertrains.
The recuperated energy is stored in a lithium ion battery and can be used to enhance performance through an electric boost function, as on the CLS53 4Matic. However, unlike the more advanced plug-in hybrid EQ Power system recently introduced to the S560e, it cannot propel the new AMG model on electric power alone.
The well-received styling of the GT 4-door concept car revealed at last year's Geneva motor show has been brought over to the production version of the new GT 4-door Coupé with only minor changes.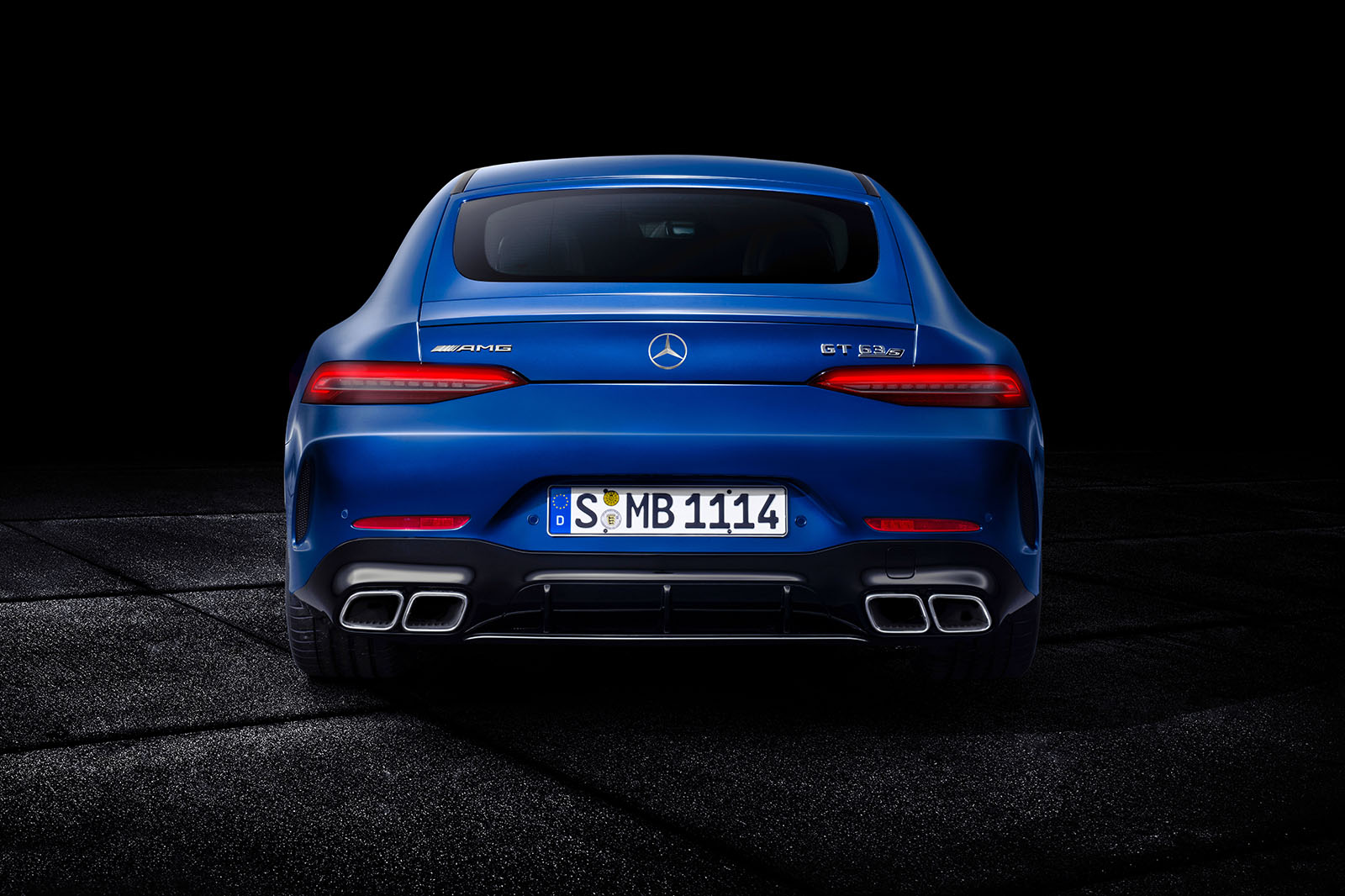 Certain cues are borrowed from the GT Coupé and Roadster in order to establish an AMG family look, most notably around the front and rear ends. However, the body of the new car is described as being unique, sharing no panel or element with any another existing Mercedes-AMG model.
Design boss Gordon Wagener said: "The GT 4-door Coupé embodies the most extreme expression of our design idiom and underlines the autonomous profile of AMG as a performance brand."
The car's silhouette is dominated by a long bonnet that's set low and extends well aft of prominent front wheel housings in what Wagner calls the "most aggressive dashboard-to-wheel" treatment yet seen on a four-seat Mercedes model.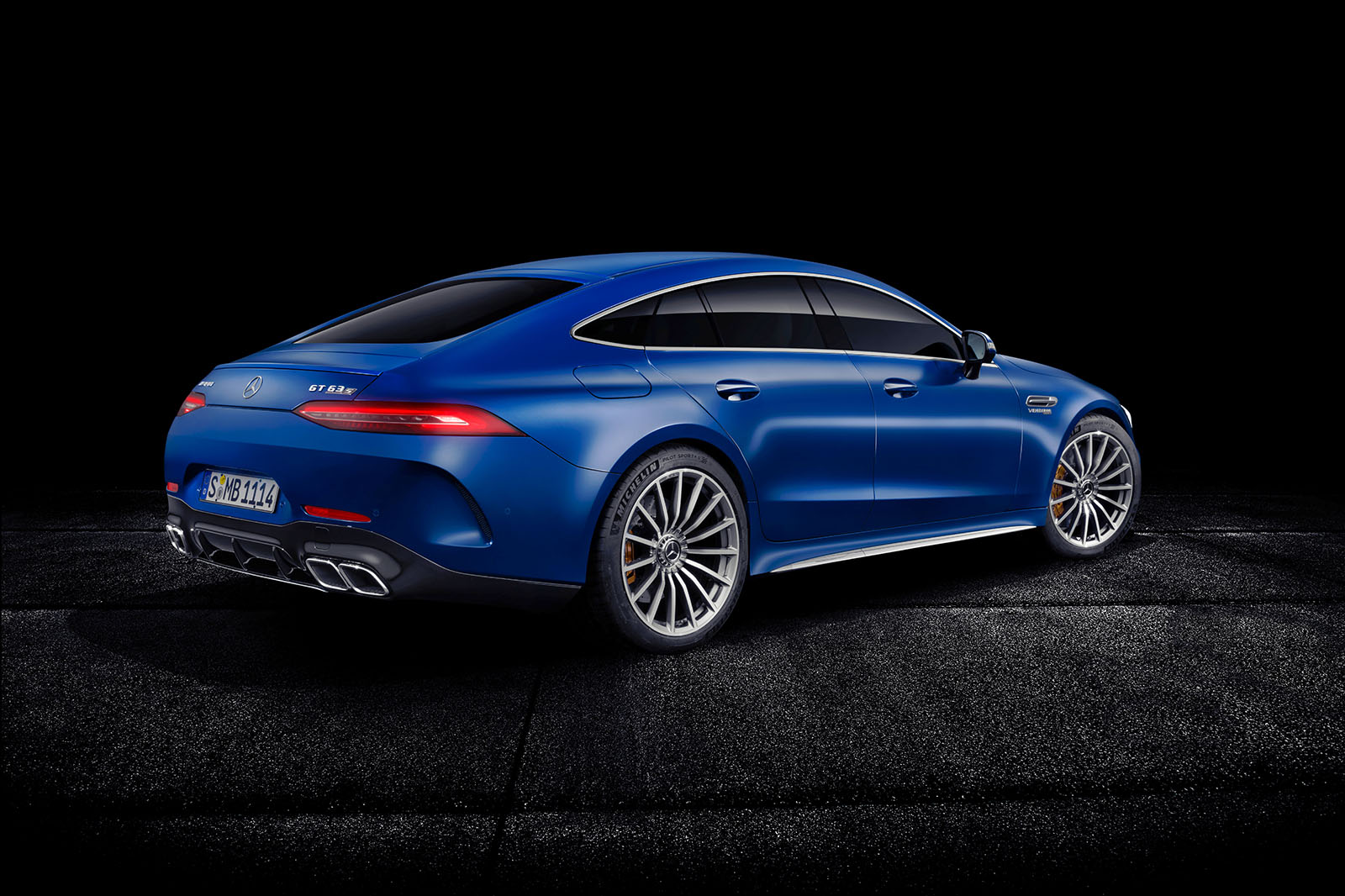 In a reflection of their common platform and similar underpinnings, the GT 4-door Coupé and CLS share the same 2939mm wheelbase. However, the new AMG model is longer, lower and wider than the CLS.
The interior has its own unique styling touches and four-seat layout. Among its main features is a new interpretation of Mercedes' Widescreen Cockpit, with dual high-definition displays for the instruments and infotainment functions housed within a single panel set in a high-positioned dashboard.
In a move that provides clear links to the GT Coupé and Roadster, the GT 4-door Coupé also receives a wide centre console and high-set central tunnel that runs back through its luxuriously trimmed cabin.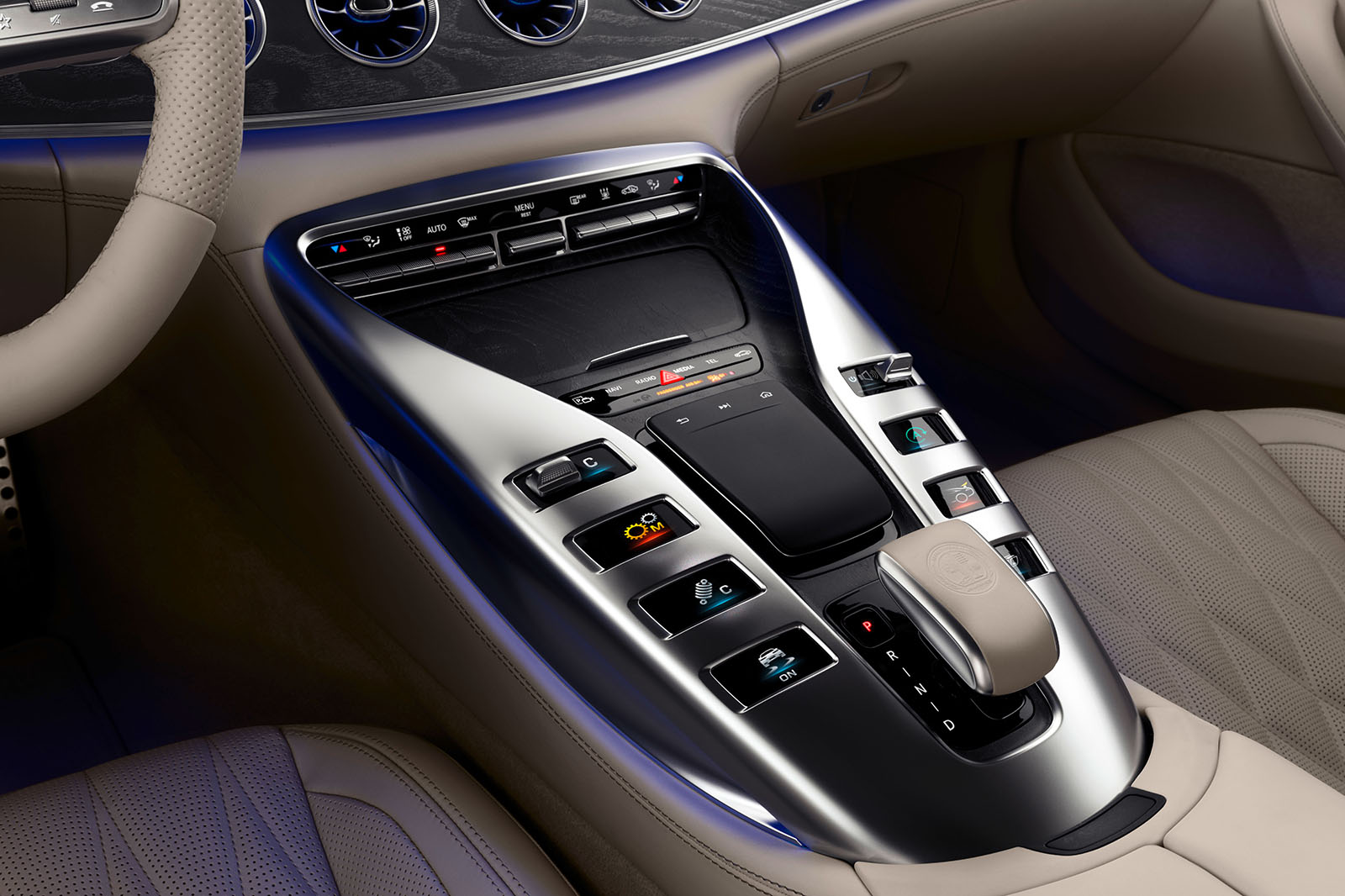 Occupants in the front sit on heavily padded sport seats similar to those used by the E63 but set significantly lower for a sportier feel. The low rear seats, meanwhile, are claimed to offer greater head room than the E63's.
The entry point to the new line-up is the GT53 4Matic+.
It runs the same mild-hybrid driveline as the CLS53 4Matic, with a turbocharged 3.0-litre inline six-cylinder petrol engine developing 513lb ft of torque at 1800rpm and 429bhp, together with an electric motor capable of providing an extra 22bhp and 184lb ft. All of these reserves are channelled through a nine-speed AMG Speedshift TCT 9G torque-converter automatic gearbox and fully variable AMG Performance 4Matic+ set-up to all four wheels.
Weighing in at 1970kg, the GT53 4Matic+ is claimed to hit 62mph from standstill in 4.5sec and reach a top speed of 177mph. AMG also quotes combined cycle consumption of 31.0mpg and average CO2 emissions of 209g/km.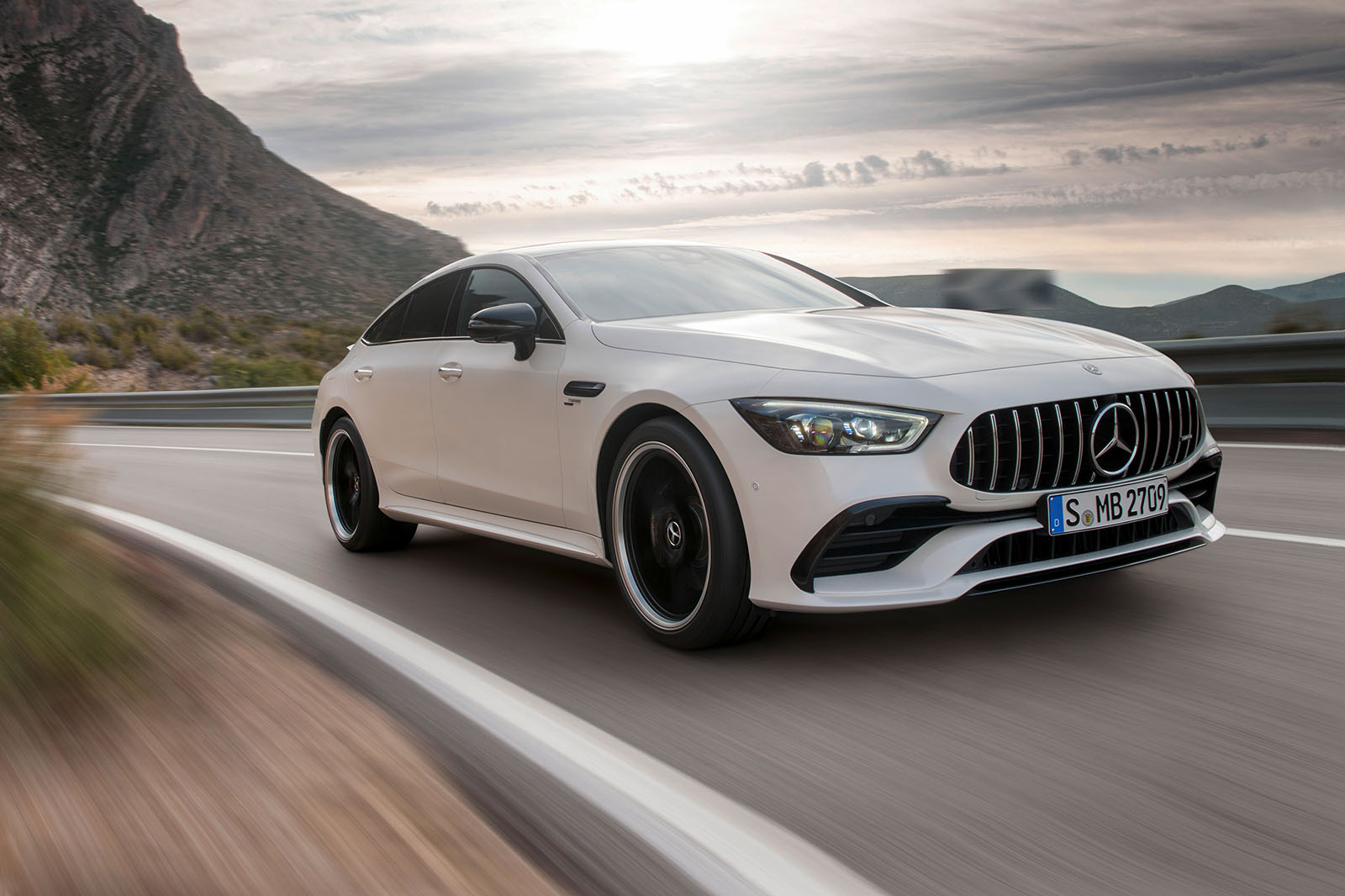 By comparison, the CLS53 has the same 0-62mph time and a governed 155mph top speed, along with a combined 32.5mpg and 200g/km.
Further up the range is the 2025kg GT63 4Matic+. This model receives AMG's twin-turbo 4.0-litre V8 petrol engine with 590lb ft of torque at 2350rpm and 577bhp. Running a more advanced version of AMG's nine-speed Speedshift with a wet clutch MCT set-up and AMG Performance 4Matic+ four-wheel drive, it has an official 0-62mph time of 3.4sec and a 193mph top speed together with combined averages of 25.7mpg and 252g/km.
The highlight of the initial range is the 2045kg GT63 S 4Matic+. It runs the same engine as the GT63 4Matic+ but it's tuned to deliver an extra 53bhp and 73lb ft of torque at 630bhp and a robust 663lb ft at 2500rpm.
Running the same gearbox and four-wheel-drive system as its less powerful V8 sibling, it is claimed to reach 62mph in just 3.2sec and achieve a top speed of 196mph. This makes it the fastest four-seater to wear the AMG badge. Combined consumption is 25.2mpg and CO2 emissions are 256g/km.
Plug-in hybrid version with up to 805bhp is on the way: 
Although the GT 4-door Coupé will initially be sold with the choice of two petrol engines, Moers hints that other units are under development for introduction during the model's six-year lifecycle.
Among them is a new performance-based version of Mercedes-Benz's latest EQ Power petrol-electric plug-in hybrid driveline slated to power a GT73 4Matic+ model that will rival the Porsche Panamera SE-Hybrid.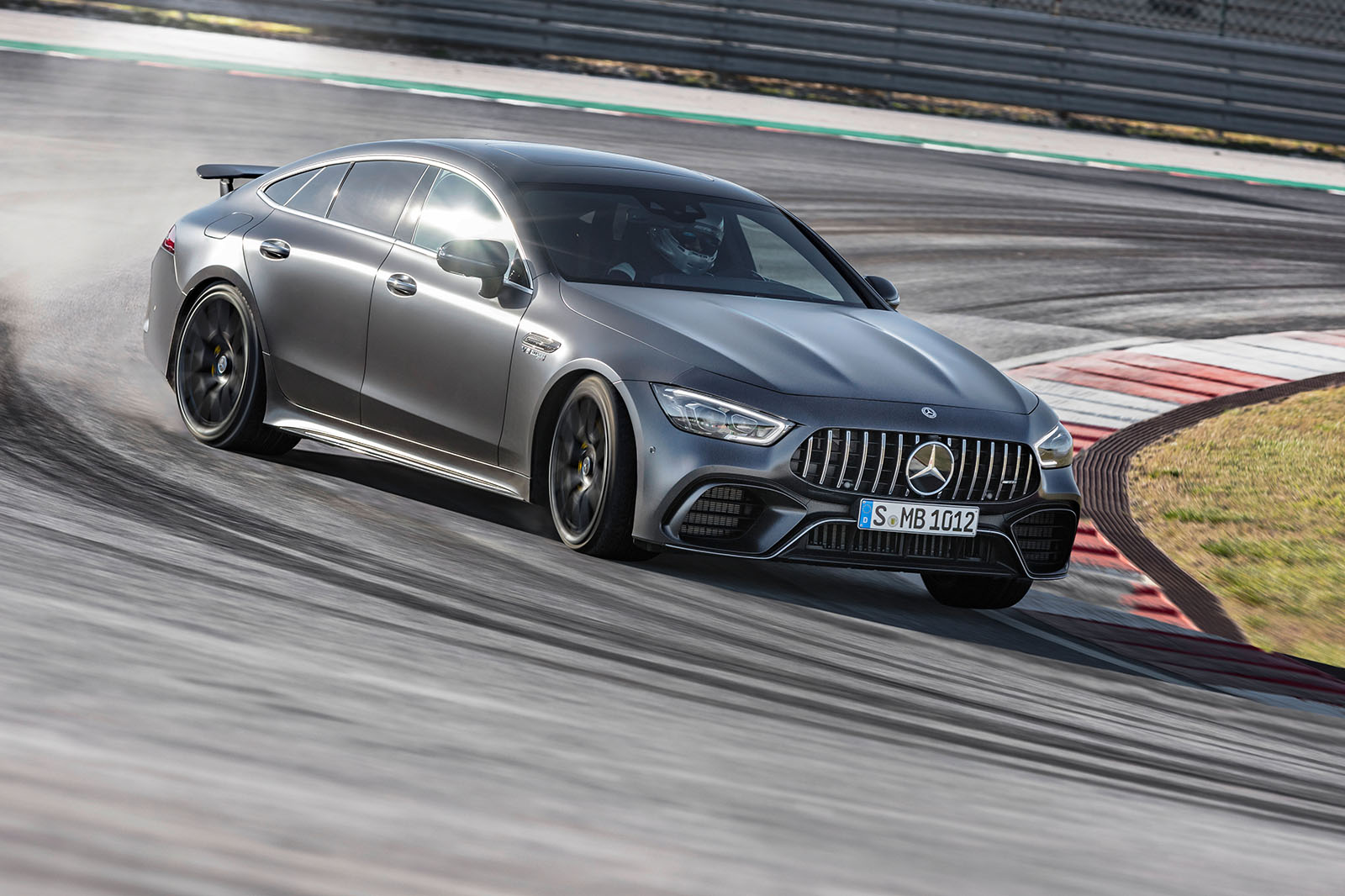 As previewed by the GT Concept shown at the 2017 Geneva motor show, AMG's plug-in hybrid driveline supplants the turbocharged 3.0-litre V6 petrol engine used in standard versions of Mercedes-Benz's EQ Power set-up. Seen on the S560e and using AMG's turbocharged 4.0-litre V8 petrol engine, it is aimed at providing significantly greater power without any loss in range.
Nothing is official just yet, but figures revealed by Moers at the unveiling of the GT Concept last year suggested the so-called EQ Power+ system could develop up to 805bhp, while providing the GT73 4Matic+ with an electric range of up to 31 miles.
As well as being mooted for the range-topping GT 4-door Coupé model, the new petrol-electric driveline is also being considered for future versions of AMG-engineered E-Class, S-Class, GLE, GLS and G-Class models.
Read more 
Mercedes-AMG CLS 63 review 
Mercedes-AMG GT review 
Mercedes-AMG GT R review
Source: https://www.autocar.co.uk