BMW has begun production of the new 8 Series Coupé at its Dingolfing plant in Germany, meaning the first customer cars are on course to reach UK roads in November.
A BMW spokesman told Autocar that the first cars to roll off the production lines will be demonstrators and press vehicles. They will be followed by customer examples, built in one of two available launch specifications, M850i xDrive and 840d xDrive, which cost from £100,045 and £76,270 respectively.
The new two-door will offer Porsche 911 performance with the luxury of a Mercedes-Benz S-Class, according to BMW's global product manager, Sarah Lessmann. She said at the car's public debut at the 24 Hours of Le Mans last month that the brief was to "define how a sports car should be", adding: "Everyone in the project had the vision of BMW getting back to sports cars, and not just sporty cars."
The premium performance model, which revives the 8 Series nameplate last seen in 1999, has also been conceived to kick-start BMW's push into the super-luxury market. Such is the importance of this model that BMW has invested heavily in the Dingolfing site to equip it with more robotic manufacturing machines and self-driving transport systems.
Opinion: Has BMW found a gap in the market?
At launch, the range-topping M850i xDrive features a 4.4-litre V8 petrol engine that produces 523bhp with 554lb ft of torque available between 1800rpm and 4600rpm. It can achieve 0-62mph in 3.7sec, with a limited top speed of 155mph.
The V8 engine has been reworked extensively, including new enlarged twin-scroll turbochargers, increasing power by 67bhp from previous versions.
The other launch model, the 840d xDrive, is powered by a 3.0-litre in-line six-cylinder diesel unit producing 316bhp and 501lb ft, with a 0-62mph time of 4.9sec.
Both models employ an eight-speed gearbox, with the gear ratios increased to boost the sporting performance. The 8 Series also features the xDrive all-wheel drive system, with a rear-biased set-up that sends all the power to the rear wheels as standard.
Q&A: Sarah Lessmann, 8 Series global product manager
BMW believes that the performance focus of the 8 Series means it can fill a gap in the luxury sports car market between models such as the S-Class and the Porsche 911.
"We have a broad range of competitors; comparing the 8 Series to only one just doesn't feel right," said Lessmann.
"There is a big gap [between the S-Class Coupé and the 911] and we decided the 8 Series shouldn't quite be in the middle of those; it takes the best out of everything and defines its own gap. Performance wise, we're close to the 911, but we also offer elegant and luxurious materials to match the best of the S-Class."
While the new car in effect replaces the 6 Series Gran Coupé as the sole two-door coupé in BMW's line-up, Lessmann insisted that it is neither a successor to that model nor a coupé version of the 7 Series, with which it shares platform architecture elements (and will be built together at the Dingolfing plant). She said: "The 6 Series was a derivation of the 5 Series, but here we have a stand-alone car, design wise, performance wise and component wise.
"We could start from scratch to define how a sports car should be."
The 8 Series was launched at Le Mans to recognise that it has been developed alongside the forthcoming M8 and M8 GTE endurance racing car.
The road car features racing-inspired double-wishbone front and five-link rear axle suspension. The M850i has been developed as an integrated package. Lessmann said: "We decided to go for a special set-up, so customers will find their car made on point. There is no choice for the chassis components; it's a perfect set-up."
That set-up was built around bespoke Bridgestone tyres (245/35 R20 at the front, 275/30 R20 at the rear), which sit on 20in wheels. It also features variable damper control, active M suspension with electronically controlled dampers and a new version of BMW's xDrive system that includes adaptive power steering and integral active steering and a limited-slip differential. The model gets 395mm M Sport brakes.
Lessmann noted that the M Sport exhaust system and V8 engine ensured that the M850i offered a "true sporty sound experience". She added: "You don't just have the driving experience of a sports car, but the true V8 engine sound. There's no sound generator; it's pure."
The 840d sits on 18in wheels as standard, with 19in and 20in wheels available as options, as part of the M Sport and M Technic Sport packages. A range of driver assistance systems, including active cruise control, are offered as standard; features such as lane-keeping assistance are optional as part of the Driving Assistant Professional pack.
The 8 Series is 4843mm long with a wheelbase of 2822mm, 1902mm wide and 1341mm tall. The boot has a capacity of 420 litres. The model adopts BMW's new design language for its sports cars that aims to bring a more modern and 'emotional' look. Lessmann claimed some design cues were taken from 1970s sports cars.
The new design includes a revamped, bolder kidney grille that features a single surround and hexagonal pattern, along with the slimmest headlights offered on any BMW model. Those are matched by slim LED tail-lights, which feed into a spoiler and two sets of exhaust pipes. The car has deliberately muscular flanks and a 'double bubble' dip in the roof (available in carbonfibre as an option), designed to recall a detail from classic racing cars. The large front and rear spoilers boost grip and performance.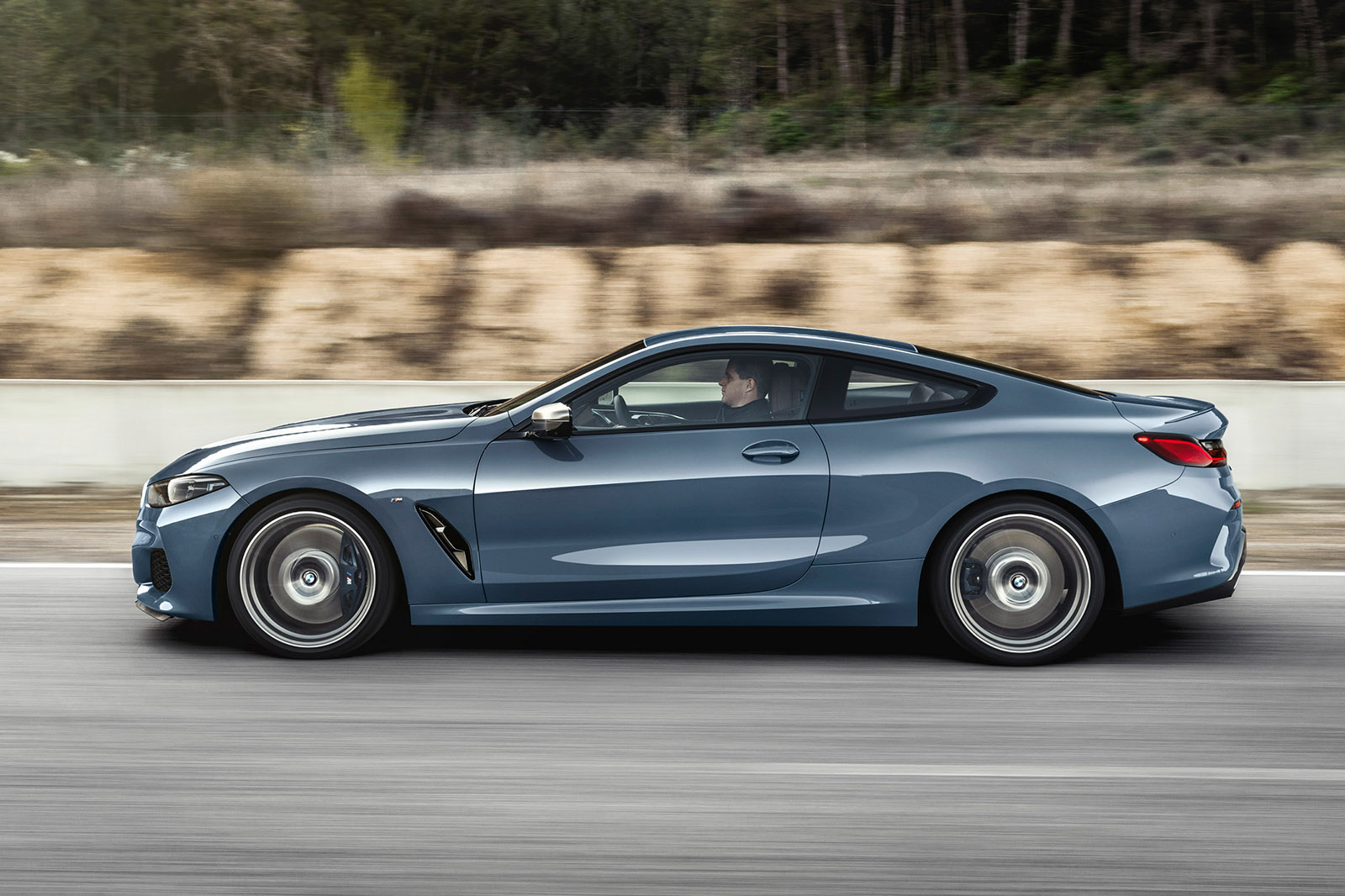 Inside, the 8 Series gets bespoke seats, a 12.3in driving instrument display and a 10.25in central touchscreen as standard, along with an enhanced version of BMW's head-up display. The control system can be operated via the touchscreen, voice control, gesture control or the iDrive controller, along with buttons on the standard leather steering wheel.
The clean interior design features controls, including the central touchscreen, that are tilted towards the driver. This focus is "very important for a sports car", said Lessmann. In order to emphasise the car's premium quality, leather is standard on the instrument panel and doors, and options include a diamond-cut glass gear selector and other controls.
BMW has yet to confirm additional engine options, although a mild hybrid version is understood to be under consideration.
Lessmann said the firm is "still discussing" future 8 Series variants. A Concept M8 Gran Coupé was shown at this year's Geneva motor show, previewing a future four-door coupé likely to be launched late next year, while a cabriolet version is also set to be introduced. The latter has been spotted testing in public.
Source: www.autocar.co.uk